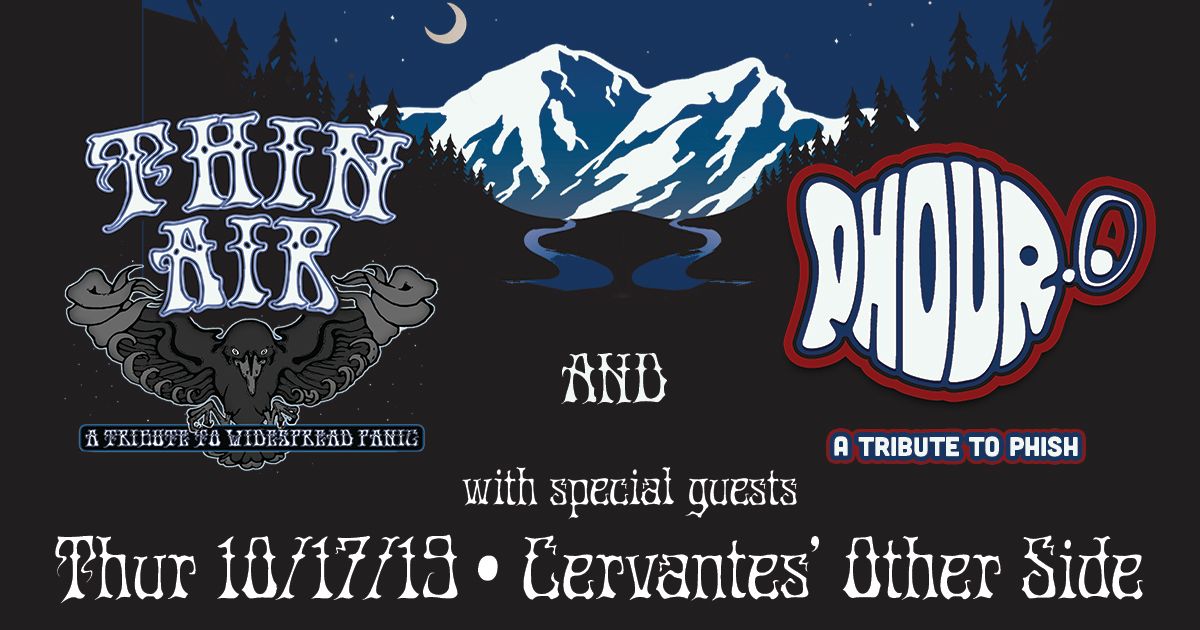 Thin Air: A Tribute to Widespread Panic and Phour Point O 
at Cervantes' Other Side 
Tickets: https://thinairphourpointo.eventbrite.com 
Thin Air: 
https://wsptributeband.com 
https://youtu.be/dHXgiWszCmk 
Phour Point O: 
https://youtu.be/oCcmwbVe3HA 
Thin Air, from Denver CO, is a Widespread Panic Tribute Band that strives to capture the essence of WSP in sound and delivery. The band closely replicates the songs as best as possible for a "live performance" experience. 
Thin Air, made up of: Ryan Morrow -Bass, Lionel Lucchesi -Drums, Adam Keane Stern -Lead Guitar, Grant Kuhlmann - Guitar / Lead vocal, John "JB" Bunting- Percussion and Ari Margolis on Keyboard's 
whom honor the band they love most, by putting on the best re-creation of all things WSP possible! 
Phour Point O- Covering arguably the second most popular jam band of all time is no easy task especially considering it's more than just playing the orchestrated parts, you need to be able to jam and lucky for Phour Point O that's where they really shine. Their shows show their ability to bliss out phans with patient and soulful playing. The attention to detail and fantastic playing really sets this band a part from the plethora of phish cover bands out there.